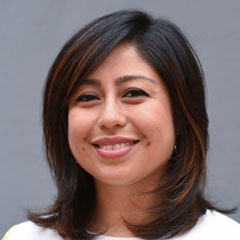 Cristina Jiménez
Social Justice Organizer, United We Dream
Cristina Jiménez Moreta received a B.A. (2007) from Queens College of the City University of New York and an M.P.A. (2011) from Baruch College of the City University of New York. In 2007, she co-founded the New York State Youth Leadership Council, and she was an immigration policy analyst at the Drum Major Institute for Public Policy from 2008 to 2010. She was a co-founder and member of the founding board of directors of United We Dream in 2008. She served as chair of the board from 2009 to 2011, when she was named UWD's first executive director.
Cristina Jiménez Moreta is an organizer and immigration reform advocate who has been instrumental in building a sustained and influential youth-led immigrant movement. Jiménez, who arrived in the United States from Ecuador as an undocumented immigrant at the age of thirteen, is a co-founder (in 2008) and executive director of United We Dream (UWD), a nationwide network of affiliated groups, organizations, and individuals focused on addressing the needs of immigrant youth and families. Through her leadership acumen and strategic vision, UWD united disparate groups around a common identity that has shifted public perceptions of undocumented youth and focused attention on policy issues that affect them.
A critical and risky early decision for the movement was to have its leaders and members share their personal stories of the struggles of being undocumented (Jiménez herself first revealed her undocumented status publicly in 2004). Putting a human face on the plight of long-term resident children and young adults transformed the negative public discourse around immigrants. At the same time, Jiménez successfully navigated competing interests and constituencies both inside and outside the movement and articulated an alternative vision and policy framework in the face of stalled efforts at comprehensive immigration reform. After the failure of the Dream Act in 2010, she was instrumental in UWD's decision to shift tactics in its efforts surrounding DACA (Deferred Action for Childhood Arrivals) by opting to press for administrative action rather than risk it stalling in legislature. The adoption of DACA (2012) by executive order has enabled thousands of eligible youth to live without fear of deportation, obtain work permits and driver's licenses, open bank accounts, and go to college.
In addition to mobilizing political pressure, UWD works to address the needs of all immigrant youth, regardless of status. As part of that effort, Jiménez has facilitated an inclusive, dynamic, and membership-driven network structure within UWD. UWD is recognized as a leadership pipeline, offering immigrant youth an entry point to professional and leadership positions as well as education and training for assuming management roles. UWD also connects its work with that of other social justice movements and has forged alliances with LGBTQ, black, and other racial justice and immigration reform communities. Jiménez is a powerful force in the immigrant rights movement, and she is steering UWD in its mission to provide resources and support to immigrant youth and communities of color while striving, in the long term, to make inroads on immigration policy reform.